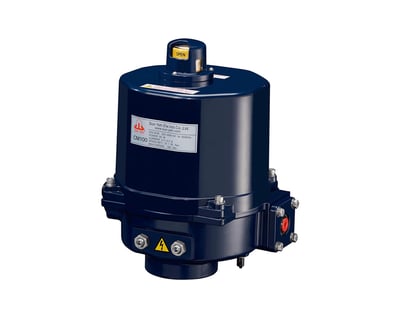 Electric Actuator
SPECIFICATIONS
Power 10W-220W
Torque 35 - 4500Nm
Speed 12 -88 Sec/90°
Weight 2-106kg
Manual Override Lever or handwheel
Mounting Flange ISO 5211
Make an Enquiry
FEATURES & BENEFITS
Aluminum alloy, polyester powder coated housing to IP67.

Insulation class F.

Ambient temperature: -30℃ to +65℃

Relative humidity: 30% to 95%

Built-in thermal protection prevents motor burnout.

30% duty cycle.

High alloy-steel gear trains with self-locking prevent back-drive. Gear trains are factory lubricated for actuators' full life cycle.

Mechanical Stops

Clutchless Manual Transmission

Equipped with an easily visible, continuous, mechanical position indicator on top of the actuator cover.