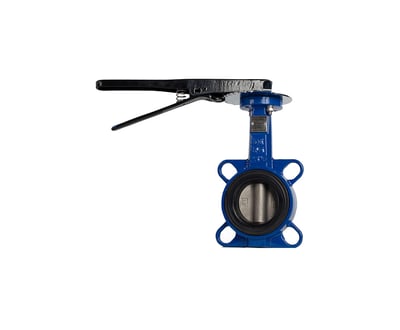 IBFWD
SPECIFICATIONS
Size Range

DN50 - DN600

Temperature Range -10°C to 110°C for EPDM Seat | -10°C to 80°C for NBR Seat
Pressure Rating 1600 kPa
Drilling Dual drilled to suit AS2129 Table D/E and ASME B16.5 Class 150
Make an Enquiry
FEATURES & BENEFITS
Butterfly valves are used for on-off or modulating services and are popular due to their lightweight, small installation footprint, lower costs, quick operation, and availability in very large sizes. These valves can be operated by handles, gearboxes, or pneumatic/electric actuators.
One-piece body with a through stem design utilising an internal disc to stem connection.

Engineered to provide bidirectional bubble-tight shutoff and isolation of the line media from the stem or valve body.

Additionally, available with a unique stem seal arrangement to guarantee media containment.

Can be easily automated for on-off or modulating service with an ISO 5211 mounting pad.
Material and test certification is available.