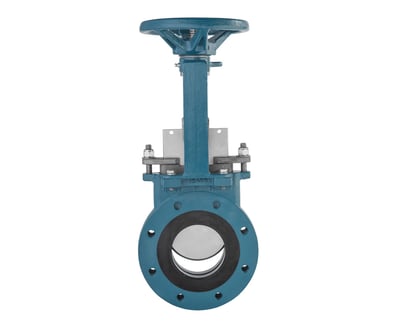 KUL
SPECIFICATIONS
Major Markets

Mining, Chemical and Food industries

Size Range 2-48" (50-1200mm) Flanged End Connections 2-12" (50-300mm) Grooved End Connections
Temperature Range -20 to 265°F (-29 to 130°C) with additional seat materials available on application
Pressure Rating 150 or 250 psi (1030 or 1720 kPa) CWP
Body Material Cast ductile iron with gates of 304, 316, 317, 254 stainless steel or Hastelloy C
Make an Enquiry
FEATURES & BENEFITS
FEATURES & BENEFITS
DeZURIK's KUL Urethane Lined Knife Gate Valves are designed for on-off applications of abrasive slurry and dry abrasive materials. Flanged Urethane Lined Knife Gate Valves are 100% port area and are ideally suited for applications in mining, chemical and food industries. Flanged Urethane Lined Knife Gate Valves are available in sizes 2-48" (50-1200mm), and grooved end valves are available in sizes 2-12" (50-300mm). Temperature ratings range from -20 to 265º F (-29 to 130º C) as standard. The cast ductile iron body is available with a variety of urethane liner compounds suitable for water, oil, food grade, phosphoric acid, petroleum and high temperature service to 265º F (130º C).
KUL valves feature a one-piece, cast-in-place bonded liner that provides bi-directional, drip-tight shutoff to either 150 or 250 psi (1030 or 1720 kPa) CWP. Urethane Lined Knife Gate Valves can also provide bi-directional dead-end service to the full pressure rating of the valve. All wetted surfaces are lined with urethane.
The KUL knife gate valve is an enclosed design which keeps all process media contained within the pipeline. When the KUL valve is actuated, it slices through the media or slurry and does not allow any discharge to atmosphere, unlike a push-through design which allows process media to discharge into the environment.
The urethane liner is bonded in place to form a continuous liner throughout the entire body, chest, packing chamber and flange face area. The bonding process enhances the mechanical and abrasion resistance properties of the urethane, which creates a robust seat seal in harsh slurry services. The seamless bonded urethane liner extends over the flange face to serve as the valve's flange gasket.