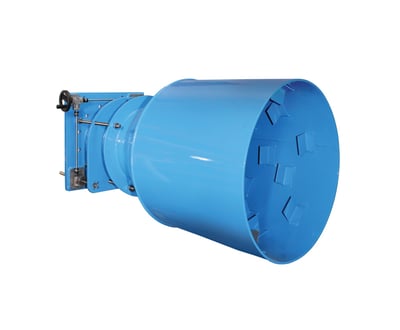 Hilton Fixed Cone
SPECIFICATIONS
ACTUATOR TYPE:
Actuation options include; manual, electric and hydraulic.

Hydraulic power units available.
BODY MATERIAL:
Typically provided in carbon steel with stainless steel provided on critical components.

Can be provided in all stainless or other weldable alloys at the user's request.

Epoxy coating options available.
SEATING:
Metal to Metal or resilient seat designs available.

Optional Nitronic 60® seat rings are available for increased wear resistance.
Make an Enquiry
FEATURES & BENEFITS
FEATURES & BENEFITS
Hilton Fixed Cone Valves are designed for continuous flow control with free discharge. They are commonly used on reservoirs for water level control and turbine by-pass. The valve's features and robust construction are designed to provide years of trouble-free service. The unique rib design reduces vibration. Hilton Fixed Cone Valves operates smoothly from zero to 100% capacity without cavitation. Flow discharge coefficient is between 0.80-0.85.
Hilton Fixed Cone Valves are available with a baffled hood design that provides ~ 90% energy reduction compared to 20%-40% reduction for an un-baffled hood design (based on testing performed at the Utah State University Water Research Laboratory).