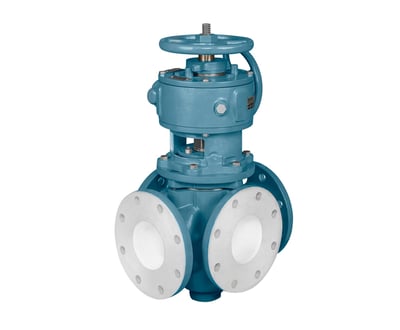 PFW Four-way
SPECIFICATIONS
Actuator type

Lever, hand wheel, chain wheel, cylinder, electric motor

Size Range 3-16" (80 - 400mm)
Temperature to 400°F (200°C)
Pressure Rating 125 psi (860 kPa) CWP
Body Material Cast iron, ni-resist, aluminum, carbon steel, 316 steel
Valve Style 4-way tapered plug
Make an Enquiry
FEATURES & BENEFITS
FEATURES & BENEFITS
DeZURIK 4-Way Tapered Plug Valves are designed for throttling and diverting applications. The transfer style plug can be arranged to divert flow into a variety of flow combinations.
Heavy duty stainless steel bearings, long-life stem seal, resilient plug facings for dead-tight shutoff, and metal plugs for high temperature applications.
4-Way Tapered Plug Valves are designed to handle clean and dirty, viscous and corrosive liquids, sludge, abrasive and fibrous slurries, and clean and dirty corrosive gases. They are used a variety of applications in Sewage Treatment, Water Treatment & Distribution, Chemical & Petrochemical, Pulp & Paper, Mining, Power and other process industries.