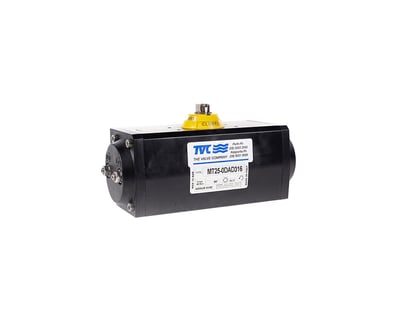 Pneumatic Actuator MT Series
SPECIFICATIONS
Available as

double acting and spring return.

Torque outputs

from 7.5Nm to 3564Nm.
Make an Enquiry
FEATURES & BENEFITS
Compact Design

Dual travel stops that provide ± 10° stroke rotation on both the opening and closing phases of the actuator stroke.

Namur VDI/VDE 3845 and ISO 5211 dimensions on all sizes. No special blocks are required to mount solenoid valves, limit switches or positioners.

Honed bores for high cycle life

High cycle bearings and wear pads

High visibility beacon

Thick powder coating (80 – 100 μ) creates a barrier against many of the chemicals that anodising alone can not adequately resist as well as proven to perform well in the salt spray and immersion test.

All external fasteners are corrosion-resistant stainless steel.

Also available as ST Series – Stainless Steel Actuators.